Approach for Horizon 2020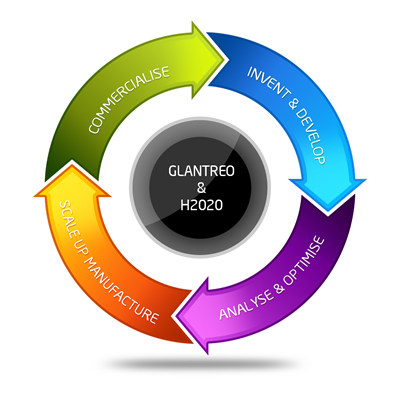 Development and synthesis of innovative nanomaterials
The synthesis of nanomaterials is one of the key competencies of Glantreo due largely to its many years' experience developing commercially focused materials. A diligent and rigorous approach to the development of the synthesis processes of nanomaterial ensure a far greater understanding of the materials but also reduces risk of future scaling issues, once the material is ready for pilot level production. The Methodology followed to manage the development of the synthesis processes will encompass but will not be limited to the following:
Detailed design of experiments to understand the critical material and process parameters.
Iterative process of development and characterisation to ensure materials characteristics are in line with specifications
Design of the optimum lab based process to demonstrate that the material specifications are reproducible
The lab process will be designed with future scale up requirement in mind
Design of scale up processes to manage and deliver material specifications
Continuous characterisation of the process in line with the required specifications through laboratory stabilisation to scaled up process.
Test, analyse, characterise and optimise nanomaterials
The testing, analysis and characterisation of nanomaterials is one of the key competencies of Glantreo due to it intrinsic Materials Development experience. Diligence and rigorous at this stage will ensure that materials meet the requirements of industrial clients and will also facilitate smooth transition to scale up and that effective commercialisation of the technologies can take place. The Methodology followed will encompass but will not be limited to the following:
Detailed characterisation of the material from a chemical, and physical perspective utilising best in class analysis techniques
Detailed correlation of nanomaterials with the process parameters necessary to deliver the materials
Review of the commercial requirements based on VOC data to ensure that the nanomaterial match the industrial requirements
Testing of the nanomaterial in real life testing environments against industrial requirements
Tailoring of the nanomaterial from specification perspective if industrial performance criteria are not met.
Experts in scale up of nanomaterial manufacturing
One of the principle challenges of the commercialization of technologies is the establishment of a stable controlled process at a scaled up scale. Glantreo follows a defined process for the transition of laboratory scale processes to pilot scale and full scale manufacturable processes. The process follows the Methodology below:
Stabilisation of lab scale processes – demonstrated reproducibility of the processes against known specifications
Identification of important process parameters that are required to be controlled to ensure a stable and robust process
In-line and off line analysis methods to be put in place to ensure that any process variances are managed
Implementation of scalable steps into laboratory processes for ease of scalability, where applicable
Implementation of control processes for measuring efficiency, performance and productivity at the laboratory scale.
Design and development of scaled up process based on the process parameter and defect analysis work. The scaled up process will target efficiency levels in line with the Laboratory Scale.
This Methodology involves extensive use of Design of Experiments and rigorous documentation of all steps and procedures. top
Experts in commercialisation of nanomaterials
Glantreo will approach the commercialisation of nanotechnologies in stage gate fashion. Progress through the phases is dependent on successful outcomes of the development phases. A typical process to ensure the successful commercialization of a nanotechnology would employ the following items, which may be iterative, depending on the technology

Phase 1
Assessment and analysis of Technology attributes
Identification of target market customers
Make commercial contact with potential customer
Initial screening VOC to understand Market applicability – (Medium to Large Volume)
Phase 2
Compiling and reviewing results from Screening VOC
Scoring of technology against VOC data
Development of Technology Specifications in line with target application
Market comparison of Technology vs. Competitive products or , if it is a disruptive technology, review against next generational market Products
Phase 3
Identification of a small set of target customers
Direct contact with Target Customer set to initiate detailed review of technology based on compiled data (including price point requirements for the technology)

Face to face meetings
Testing of samples or process by Target customer set
Analyse results against incumbents or next generational expectations
Phase 4
Ensure Process Scalability is in line with Growth expectations
Develop Market Readiness Plan / Market Launch Plan